I decided to inaugurate this section by exploring Procreate with you! We will do this through simple and quick tips, visual and written, which we will call pills.

First of all what is Procreate?

Procreate is a software, excellent in my opinion and one of the best, which allows you to create and illustrate magnificent works directly on your iPad. It is quite simple and intuitive but, like all software, you may have the impression of navigating a bit in the open sea the first time you use it.

I had a bit of a struggle initially, but because of my old habits. In fact, having always drawn only in Photoshop and Illustrator and always and only with a graphic tablet without built-in screen, my difficulty was precisely that of changing my way of thinking and interfacing with the work stage. I had the impression that I could not manage or conduct my work and my hand. A little practice and enthusiasm (one who gets demoralized easily tells you this) and now I can't do without it anymore.

So if you are a beginner with this software and you have any doubts… do not be disheartened! There are many tricks and movements that gradually become automatic and natural, making your experience in Procreate easier and easier.

I'll show you some of them right away, hoping they can come in handy!
First you need to create a new workspace in order to get started. Then open your Procreate and click on:
- "+"
- "New sheet icon"
You will now be able to set the size and framerate of the worksheet! The higher the resolution of the sheet, the more the levels on which you can work will decrease.
You are now on the spreadsheet ready to proceed!
First of all, the first thing to do is to choose the brush to use. Procreate offers a large library of brushes but you can purchase more online.
Once you have chosen the brush and the color, all you have to do is start drawing!
All you need to know is that Procreate offers a couple of tricks that may come in handy. I will list a few here in this first part of Procreate pills.
Crea un nuovo livello su cui poter lavorare premendo sull'icona raffigurante il doppio quadrato:
Scegli il colore che preferisci per iniziare. Selezionandolo semplicemente avrai così impostato il colore del tuo pennello, trascinandolo sullo stage invece riempirai l'intero livello con il colore da te scelto.
Once you have chosen the brush you can define its size in the first box on the left by moving the cursor. In the following box you can instead set the alpha of the brush itself.
Once you have created your shape, holding the tip of your pen on the paper will achieve a perfect closure. In fact, Procreate will help you in the precision of the strokes and shapes.
As we have seen before with the background, it is possible to fill the color of the shapes obtained (as long as they are closed circuits) by dragging the color from the color spectrum to the shape we have drawn.
If what you just did doesn't satisfy you, you can go back exactly like on other software. To go back and delete an action you just performed, tap with two fingers on the screen.
If you want to restore an action, tap with three fingers on the screen.

By spreading your fingers, you can zoom in on the worksheet. By joining them instead, you can reduce the worksheet. Instead, making a quick movement between your index finger and thumb (as if you wanted to pinch) you can instead return the sheet to its original size.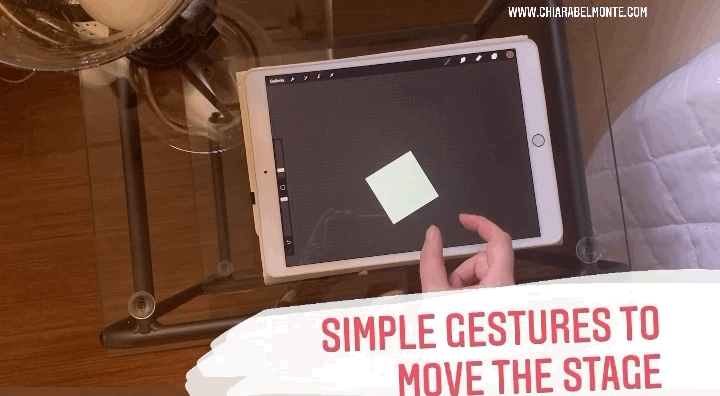 Procreate also offers the possibility of further assistance through assisted drawing. Assisted drawing will allow you to create straight lines very easily.
Through the assisted drawing you can also select the symmetry mode. This will allow you to draw with a mirror effect facilitating certain types of drawings.
These are some of the tips that I found useful at the beginning of my Procreate approach and I think they can be very useful for those taking their first steps inside the software!


Obviously, if you have other suggestions to insert, please write!

See you next pills and good drawing!ヅ